__________________________________________
Hello, folks! Once again, we have emerged from the winter doldrums in one piece and flipped the calendar to May, ushering in the full breadth of MLB, NHL & NBA playoffs, The Kentucky Derby, and crippling allergies in the northeast. Here on the east coast, the first Saturday in May kicks off with Rangers/Senators Game 5 at 3:00 p.m. and ends nearly 12 hours later when the Canelo – Chavez fight is at its conclusion.  If your day is anything like (or exactly like) mine, you'll pass the hours in between with a mint julep in one hand, and pari-mutuel wager slips in the other.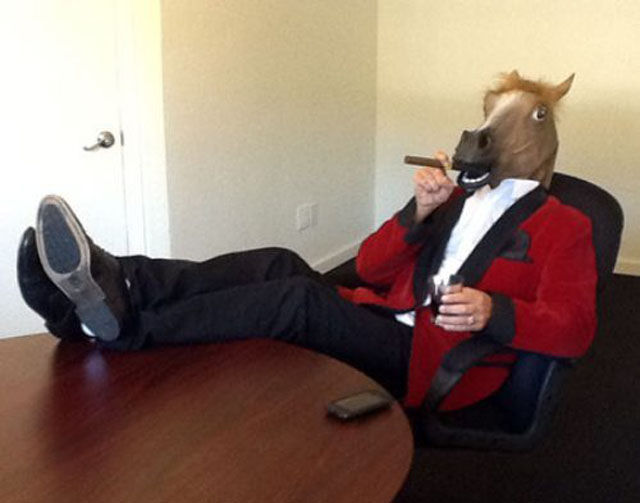 Just remember, it's a LONG day.  And since this is a judgment-free zone, the only advice I will give you is to just stay hydrated and hope for the best.
_________________________________________
After three consecutive years of Derby Favorites shipping in from SoCal, this year's likely post-time top pick, CLASSIC EMPIRE, rolls into Kentucky by way of Woodbine Racetrack in Toronto, Ontario, Canada.  Other than serving as a convenient vehicle for setting up this paragraph, that factoid really hold no practical significance.  What is relevant is CLASSIC EMPIRE's racing history and style, which I believe makes him ideally suited to become the fifth straight post-time favorite to make it to the winner's circle.  Most notable is his work at Churchill Downs as a 2-year old, where he went 2-for-2, including a maiden win over a sloppy track.  And since the Lexington strip should resemble something the consistency of peanut butter come post time, he will be my choice and the obvious choice for most amateur handicappers.
Beyond that, the 143rd edition of the Run for the Roses is something of an enigma.  The Florida Derby and Wood Memorial winners (ALWAYS DREAMING & IRISH WAR CRY, respectively) both appear to be in fine form as legitimate contenders.  Meanwhile, the Blue Grass Stakes (a race whose winner has gone on the win the Kentucky Derby most often) was won by a previously winless horse (IRAP), whose odds are currently 39-1, while the 3rd place finisher from that race (MCCRAKEN) is right now the 5-1 second choice.  So, ok, sure.  Throw in a whole mess of live long shots, a good-looking international runner, and even a horse bred in New Jersey (!), and this year's superfecta should be wide open.  That is not to imply that this is not a talented group, overall.  Between the weather and the wide variety of running styles amongst the field, I think that this year's Derby will be one of the most exciting in recent memory.  If you are upright and coherent come post time, you are probably in for a treat. 
Finally, if there are any made-for-TV angles in this year's race, I'm certainly not aware.  Even more so than in years past, I have done my best to filter out the static that makes for an entertaining Derby Day broadcast, but has little to do with the actual race.  The key, as always, is in finding value in a crowded and talented field. This year, the weather and lack of a prohibitively dominant presence makes the race even more wide open than usual.  So, we will try to devalue the angles and focus more on the fundamentals of form and race dynamic. 
On the off chance you are still reading...
Advice from our resident Horseman:
                                                            POST POSITION
1) CLASSIC EMPIRE                                    14
2) MCCRAKEN                                              15                WILL BE BOXING IN AN
3) BATTLE OF MIDWAY                             11                EXACTA/TRIFECTA/SUPERFECTA
4) AKWAYS DREAMING                             5
LONG SHOT – THUNDER SNOW               2                 (INT'L SHIPPER COMES OFF UAE DERBY WIN
                                                                                             OVER A SLOPPY MEYDAN TRACK, AT THE                           CLASSIC DISTANCE)
KEY FACTS & FIGURES
·         The Kentucky Derby winner is draped in a blanket of red roses, a tradition that dates back to 1896.  This is why the race is commonly referred to as the "Run for the Roses"
·         The official drink of the Kentucky Derby is the Mint Julep, a positively delicious concoction of Bourbon, simple syrup and fresh mint served over crushed ice
·         No horse in the #1 post (LOOKIN AT LEE this year) has won the Derby since Ferdinand in 1986. No horse form the #1 post has finished in the money since 1988 (FORTY NINER)
·         The horses with the top Beyer Speed Figures on wet dirt tracks are GORMLEY (94), BATTLE OF MIDWAY (88) and TAPWRIT (85).
·         Santa Anita Derby runner-up BATTLE OF MIDWAY (30-1) will try to break the curse of APOLLO this year, and become the first horse since 1882 to win the Kentucky Derby despite having never raced at age 2.  Of the fifty-eight previous horses that have tried to buck that trend, three have finished in second place (BODEMEISTER, STRODES CREEK, COALTOWN)
·         Only two New Jersey-bred horses have ever won the Kentucky Derby (most recently CAVALCADE, in 1934).  This year IRISH WAR CRY (6-1) will try to become the third.  Rumors of him was complaining about the traffic on the drive to Churchill are, as of now, unconfirmed
·         Since 1930, horses running from the #10 post (GUNNEVERA, 15-1) have had the greatest success (11.3% winners).  Five of the last nine Kentucky Derby winners have broken from the auxiliary gate (posts 15-20). 
·         UNTRAPPED (30-1),  CLASSIC EMPIRE (4-1), and MCCRACKEN (5-1)  have all won races at Churchill Downs
·         74 Derby winners lifetime have had a 2-word name (52%)
·         The weather forecast for race time is 54 F with a 30% chance of rain
Remember, these are just our thoughts and are in no way an endorsement to wager on these horses (or to wager, period).  Good luck and enjoy!