Draft Grades by Hot Rodz
 1.  Tampa Bay Buccaneers: Jameis Winston QB
They had to take the most pro ready QB in this draft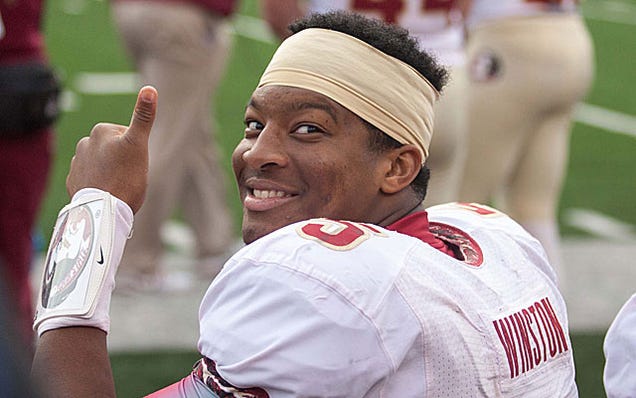 A
READ MORE
__________________________________
2. Tennesse Titans: Marcus Mariota QB
Should of traded the pick. There were a lot of good offers on the table. 
C
3. Jacksonville Jaguars: Dante Fowler Jr. DE
Ehh..Williams would of been the better pick
B-
4. Oakland Raiders: Amari Cooper WR
Great pairing for Derek Carr, but with Williams still on the board they should of picked him. Should be a good pro for a long time.
B+
5. Washington Redksins Brandon Scherff OT
Again...should of been Williams with their D-line losses in free agency, but best OL in the draft. Tough to ever complain about that.
B+
6.  New York Jets: Leonard Williams DT
Brilliant! Love this pick for them. Jets fans are already chanting DE-FENSE!
A+
7. Chicago Bears: Kevin White WR
Just what they needed. Good Pick
A
8. Atlanta Falcons: Vic Beasley DE/OLB
Solid pick that helps fill a need, but Matty Ice spends way too much time on his back.
B-
9. New York Giants: Ereck Flowers
Love that they went OL, but did they pick the right one? Seems like a little bit of a reach here. 
B-
10. St. Louis Rams: Todd Gurley
Doesn't make any sense to me. They have a stable of quality backs. 
D
11. Minnesota Vikings: Trae Waynes
Best corner in the draft, but I don't think he should of gone this high.  They should of given Bridgewater a weapon to work with.
C+
12. Cleveland Browns: Danny Shelton DT
Love it!  Definitely need help up front and got it. 
A-
13. New Orleans Saints: Andrus Peat OT
Good Solid Pick. Thought they would go defense, but nothing wrong with solidifying the o-line
B
14. Miami Dolphins: DeVante Parker WR
Nice piece for Tannehill. Good pick, but not 100% confident he's a top 15 pick. 
B+
15.  San Diego Chargers: Melvin Gordon RB
They knew what they needed/wanted and went for it.  I like that.  Good pick
B
16. Houston Texans:  Kevin Johnson CB
Took care of a need here,  but I like Marcus Peters upside more. 
B-
17. San Fransico 49ers: Arik Armstead DE
O-line was a mess last year with injuries and poor play, don't like this pick.
C-
18. Kansas City Chiefs: Marcus Peters CB
Solid Pick. 2nd best corner in the draft. Has great upside. 
B+
19. Cleveland Browns: Cameron Erving C
Not sure this was exactly a need, but tough/smart player.
B-
20. Philadelphia Eagles: Nelson Agholor WR
I don't want to pretend I know what Chip Kelly is up to
D
21.  Cincinnati Bengals: Cedric Ogbuehi OT
I guess they think he will recover quickly or that they are deep enough to add a player that won't be ready this season. I figure Randy Gregory/Shane Ray/La'ell Collins would of been perfect for them. They love players with off-field issues.
C-
22. Pittsburgh Steelers: Alvin Dupree DE
Perfect Steelers pick.  Can they turn him into a star without Dick Lebeau?
B
23.  Denver Broncos: Shane Ray DE
Weed is legal in Colorado, great pick for everyone involved.
B+
24. Arizona Cardinals: DJ Humphries OT
They need to protect Carson Palmer and open holes for Andre Ellington. This will help big-time
B+
25. Carolina Panthers: Shaq Thompson OLB
Dumb. Just Dumb. Offensive line is a disaster so let's pick an outside linebacker that likes playing running back. DUMB
F
26. Baltimore Ravens: Brreshad Perriman WR
Great replacement for Torrey Smith.  Knock on him is his hands, but that is overplayed.
A-
27.  Dallas Cowboys: Byron Jones CB
Combine freak. Can he broad jump during the game??  I don't trust him.
C
28. Detroit Lions: Laken Tomlinson OG
Filled a glaring need, but does Duke produce first round NFL players? 
B-
29. Indianapolis Colts: Phillip Dorsett WR
Doesn't make sense to me.  Feels like Chip Kelly drafted for them. They have many more needs. WR is a strength. Head scratcher here
C-
30. Green Bay Packers: Damrious Randall FS
They must be moving him to CB, if not this doesn't make any sense after drafting HA HA Clinton Dix last year. 
C-
31. New England Patriots: Malcom Brown DT
Good Bye Vince Wilfork. Hello Malcom. Great all value and filled a need.
A